Your shopping cart is empty.

Cigar Events coming up in September @ Havana Connections!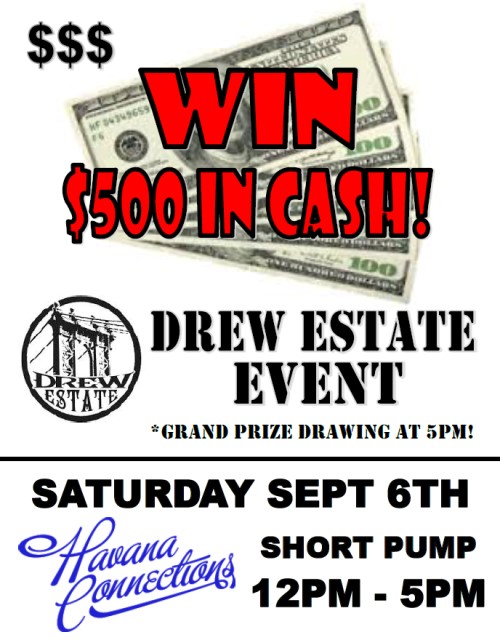 We've got multiple events on the books coming up.

Starting Saturday September 6th!

Drew Estate $500 Cash Giveaway

Saturday September 6th 12pm-5pm
Havana Connections Short Pump

Drew Estate is going to be a wild one. We are going to give away $500 in Cash. Buy Acid, Herrera Esteli, Joya de Nicaragua, and Liga Privada for your chance to win the cash! Event Tickets are $10!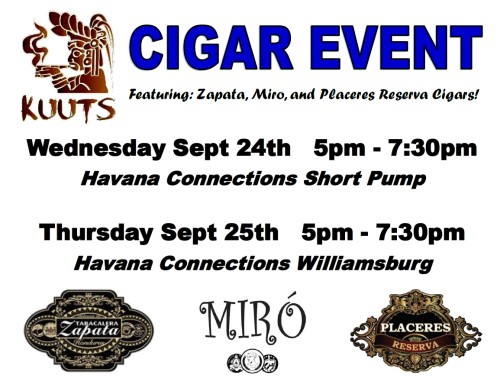 Kuuts Cigar Event

Wednesday September 24th 5pm-7:30pm @ HC Short Pump

Thursday September 25th 5pm-7:30pm @ HC Wlliamsburg

Kuuts Cigar is the maker of Miro, Zapata, and Placeres. We've got two back to back events with these guys along with event only deals and specials! Event Tickets are $10 each.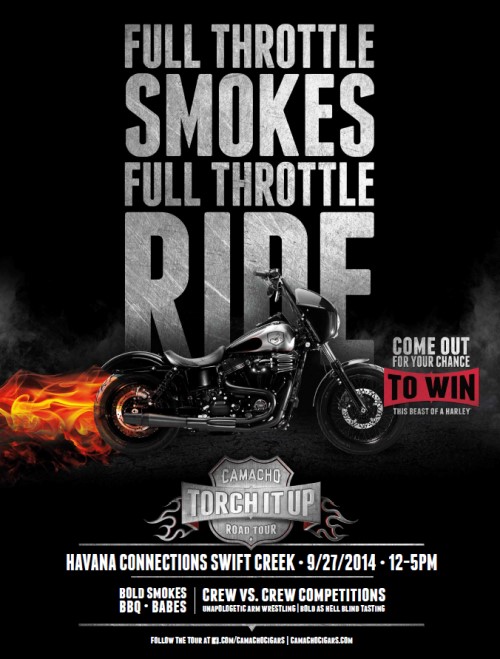 Camacho Torch It Up Tour

Saturday September 27th 12pm-5pm
Havana Connections Swift Creek

Camacho Torch It Up Tour debuts in Central Virginia at HC Swift Creek. This is a FREE Event featuring Arm Wrestling Contests, Blind Tastings, and the chance to win the Camacho Custom Harley!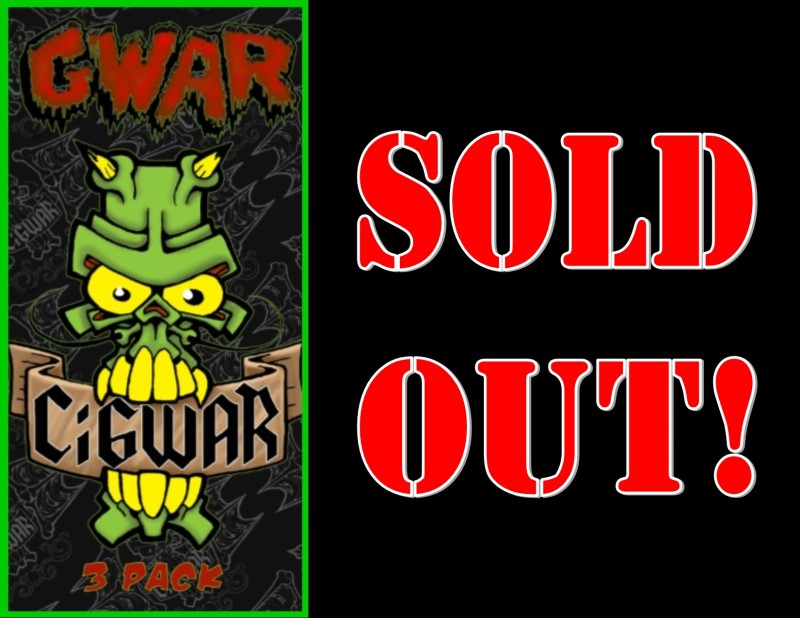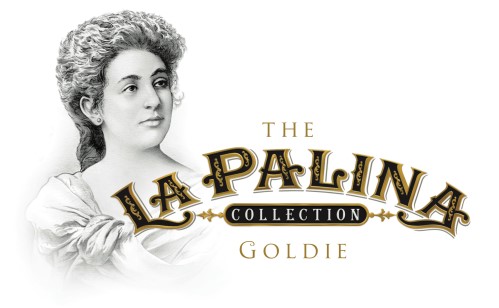 The new 2014 La Palina Goldie Laguito Especial has arrived!

7 x 40, Boxes of 10.

This Lancero is rolled at El Titan de Bronze in Miami, Florida and utlizes a range of tobacco including the elusive Medio Tiempo tobacco. This smoke is Medium to Full with a smooth complex flavor and is available in very limited quantities. The previous year's Goldies, the #2 (2012) and the #5 (2014) were an immediate success and this Lancero format looks as if it will live up to the standard set by its predecessors.

We have a small amount ready to ship now!

Boxes of 10 are be $164.90 and will include Free UPS Ground Shipping.




The famed Tatuaje Black Corona Gorda Jar has RETURNED!!!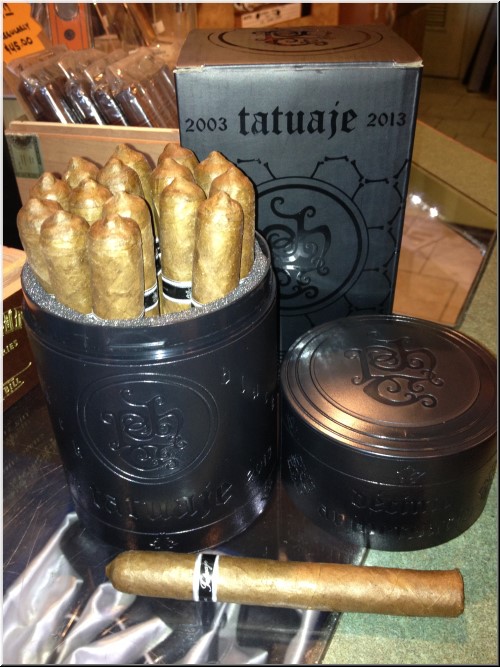 This is the latest release of Pete Johnson's personal cigar. Back in 2007 Pete Johnson was on a famous island know for cigars and wound up smoking a local, rustic cigar everyday. When he returned back to the states, he decided to have Don Pepin Garcia recreate that experience for him. Alas, the Tatuaje Black Label Corona Gorda was born. The original Jar release from years ago was an immediate sellout. They have returned with an updated jar and band. Rustic, rich and available in any size you want as long as it is the classic 5⅝x46 Corona Gorda vitola.
| | | |
| --- | --- | --- |
| Jar of 19 | $171.00 box plus FREE UPS GROUND SHIPPING | |
| Pack of 5 | $50.00 pack plus $10 UPS GROUND SHIPPING | |

Headley Grange Drumstick
NOW IN STOCK!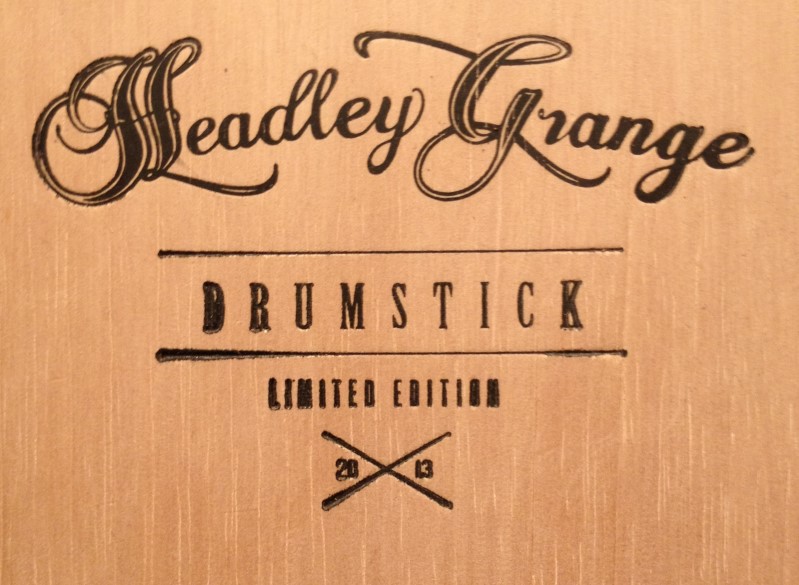 Headley Grange Drumstick NOW AVAILABLE!!!
The latest limited edition from Crowned Heads is here!
Headley Grange Drumstick. Made in the classic Lancero shape 7½X38.
Very few boxes of these have been produced, but we have some available here at Havana Connections! Jon Huber of Crowned heads wanted a cigar that tasted like the opening drum solo in Led Zeppelin's "When the Levee Breaks". Cigar master Ernesto Perez-Carrillo, coincidentally a talented drummer, came up with this blend. Already available in a number of traditional sizes, the guys at Crowned Heads decided to do a special shape. Henceforth, the Drumstick was born!
Available by the 5-pack or box of 10, this cigar will satisfy any Lancerophile.
FREE UPS Ground Shipping with Box Purchase!
(within the continental US)
| | | |
| --- | --- | --- |
| Box of 10 | $99.00 box plus FREE SHIPPING | |
| Pack of 5 | $55.00 pack | |

tatuaje taa 2013
NOW IN STOCK!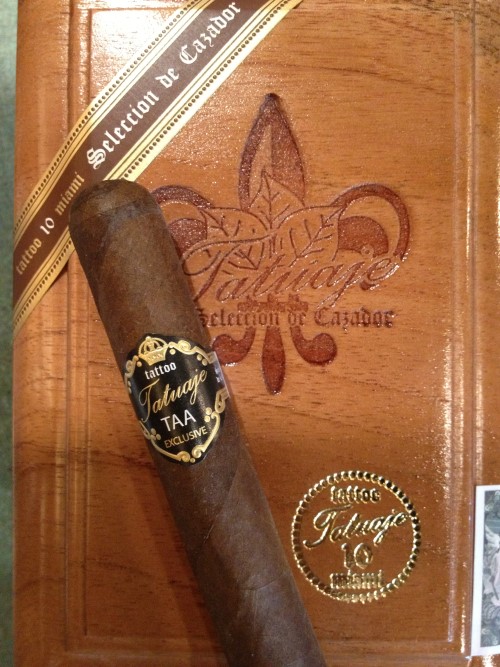 Tatuaje TAA 2013 Gran Chasseur NOW AVAILABLE!!!
This year's exclusive Tatuaje TAA cigar is here!
Based on the original "brown blend" Tatuaje, the Gran Chasseur is a size extension of the Tatuaje 10th Anniversary series. A well aged Ecuador Habano wrapper encompasses a Nicaraguan filler blend that is rich and complex. Available in limited quantities to members of the TAA: Tobacconist Association of America. The Gran Chasseur size is 6⅜ X 54 and comes in boxes of 20 cigars. FREE UPS Ground Shipping with Box Purchase!
| | | |
| --- | --- | --- |
| Box of 20 | $198.00 box plus FREE SHIPPING | |
| Pack of 5 | $55.00 pack | |

Hours of Operation
Mon - Thurs: 10AM - 8PM
Fri - Sat: 10AM - 9PM
Sun: 11AM - 7PM


Westbury
8801-E Three Chopt Rd.
Richmond, VA 23229
Phone: 804-673-6523


Midlothian
11645 Midlothian Tnpke.
Midlothian, VA 23113
Phone: 804-897-7307


Short Pump
11616 West Broad St
Richmond, VA 23233
Phone: 804-364-5711


Swift Creek
6181 Harbourside Centre Loop
Midlothian, VA 23112
Phone: 804-739-7301


Williamsburg - Newtown
4920 Courthouse Street
Williamsburg, VA 23188
Phone: 757-229-4060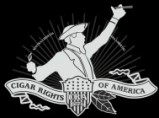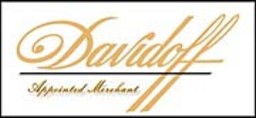 Copyright © 2007 - 2014 - Havana Connections - All Rights Reserved
Havana Connections requires enthusiasts to be of legal age to purchase tobacco products.
HavanaConnections.com does not sell cigarettes.
Havana Connections is not responsible for errors, typos or omissions and prices may change without notice.

Virginia State OTP Tax and Sales Tax will be added to all purchases shipped into Virginia.
Recipients of any products outside of Virginia are responsible for their own state and local taxes.
Free Shipping on Orders of $100 or more.
This URL is http://www.havanaconnections.com/main.html